The data model that builds itself as you query.
Omni is the one business intelligence platform that lets you start analyzing data quickly without the upfront cost of modeling.
Focus on answering data questions, and Omni will build a data model as you go, allowing for reusability, governance, and performance optimization.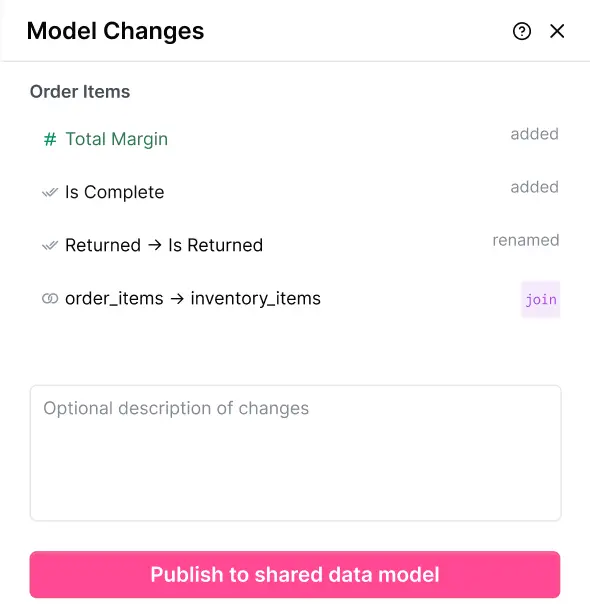 Instant Data Exploration
Connected Workbooks
Omni Workbooks combine the simplicity of point-and-click UI with the full flexibility of SQL. Quickly build ad-hoc analyses in your individual sandbox, then promote fields and views to the shared data model when you're ready to govern or reuse.
Curated Data Sets
Omni Topics are the best way to curate data sets for different teams in your organization. Pre-defined join paths, easy to read fields, and added descriptions make it easy for everyone to ask questions.
Rapid Sharing
Dashboards
Share your work with stunning, interactive dashboards. Help everyone on the team make data-driven decisions — no matter their role. Omni Dashboards are quick to build and even faster to load.
Unconstrained Visualizations
Omni recommends the best way to communicate any analysis, while giving unlimited flexibility to customize the visualization. With a Vega editor built right into the Omni interface, create what you need with any size of data.
Easily Shareable
Omni makes collaboration easy, editable and reusable. Workbooks are shareable through URLs that hold all the query information. Data model work is shareable through the promotable code.
Auto Model Creation
Automatic Data Models
Omni automatically parses all SQL queries and pulls out the reusable components — fields, calculations, and joins — creating the building blocks for your data model. Focus on data exploration — both interactively with the UI and programmatically with SQL.
Promote Data Discoveries to Everyone
Teams and individuals have full flexibility to do any analysis they need, when they need it. Data Teams identify and promote logic to the shared data model to encourage knowledge sharing and governance across the organization.
Permissions
Omni offers the flexibility to manage who can access data, models, and content. Give power users all the access they need, while creating guardrails for everyone else.
Intelligent Cache
Omni gives you the speed of in-memory extracts with the scale of a data warehouse. Don't worry about making rigid trade-offs between running large queries in-database with pulling extracts that get stale quickly.
🔐
🔐
Secure Data Connections
Customer data is kept secure with industry-leading privacy standards, technology and practices. Omni is audited against the SOC 2 standard and can provide a Type II report upon request.